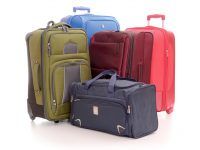 Send Excess Baggage Luggage Shipping to any European Destination
When you are travelling, you might want to avoid the hassle of carrying your excess baggage, boxes by acquiring the service of the Baggage shipping. The Luggage Service is responsible in accounting the details and shipping your baggage to any point of your destination. If you are still wondering why there is a need for you to send baggage, there are many benefits that it offers. The luggage shipping service will simply deliver your stuff right in the front of your doorstep at a specified time and location. You no longer have to travel carrying your excess luggage as well as bulky stuff such as sports equipment when travelling. You can also skip the long lines of baggage checking, and it is also the perfect way to avoid paying on the excess baggage.
Avoiding the Excess Baggage
If you are travelling a lot, you will be aware of the recent policy being implemented by different airlines regarding the weight capacity of the baggage. The recent policy is the airline's reaction to the increasing cost of fuel. Some of the airline companies are now posting fees for carry ones and also excess baggage payment for extra luggage.
If you want to avoid the long lines as well as the increasing cost of the excess baggage, hire the service of a baggage shipping service and let them handle all your concerns. Allow them to send baggage directly to your location or destination. It will not only save you a lot of money but will also take away the hassle and give you more time in exploring the airport.
With the Luggage Service, there is also a minimum chance that your luggage will be lost. Every Baggage Shipping Services is dedicated on transporting your luggage. So if you want to avoid the possibility of losing your baggage or delaying let the luggage service handles and send baggage to your destination.
With the Luggage Service, you can also ensure that your luggage will be on your specified destination on the right time. You will be notified about the arrival of your baggage so you can just sit tight and travel without any worries. Avoid travelling and exploring carrying your baggage with you. It is tiring, stressful and annoying.
If you are going on a vacation, starting it on the long line at the checking counter is not something you want to do. By skipping some of the stressful process in the airport, you will have more time to explore the airport. You will not be always in a hurry when it comes to connecting flight. Upon your arrival, it is as simple as getting off on your plane and heading directly to your home. Your excess baggage will be shipped directly to your location by the luggage service.
WHY USE EAST END LOGISTICS?