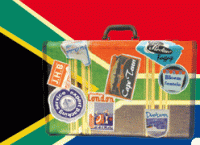 Not only in case of fragile air cargo you have to be pack your goods the right way. In general you have to use a package which fits the size of your goods. In case this is not possible add bubble wrap. In addition, bubble wrap makes the parcel even more resistant against G-Forces, which occur almost everywhere during the supply chain. Especially  when you are using air cargo transports, such as our brand new services to South Africa.  
If you make use of our door to door service for excess baggage, you can of course use suitcases or other kinds of luggage.
In the following we would like to provide additional packing information for air cargo transports to South Africa:
Some warehouses in South Africa store their goods at the outside. So according to the African climate, make use of a waterproof box.
In addition, we need to warn you about wooden crates. South Africa is a member of the International Plant Protection Convention, to prevent the spread of dangerous organisms. So you have to check that your timber is ISPM 15 approved and has the branding.
Further, sustainable packing is very important for South African transports. Plastic crates might be very helpful, because you can use them after the transport as well. It is not a must, but very appreciated.